Comprehensive IT Solutions
The Prospective Group has established itself as a senior-level IT architecture and engineering resource for Federal customers with critical data, application, and communication needs. Team TPG is well acquainted with adjusting to the mission, culture and the challenges facing varying Federal Agencies. We bring significant relevant corporate experience covering a breadth of task areas based on our current and previous work with Federal government agencies including the Department of Defense, the Department of State, Office of Personnel Management, Office of Management and Budget, and Export-Import Bank of the United States.
We have worked with organizations big and small and can provide an array of service solutions:
(Select a solution in the list for more detail)
IT Cloud and Infrastructure Modernization and Solutions
We believe IT solutions must deliver quantifiable business value. The Cloud has become one of the most significant agents of change in the development of Information Technology.  Organizations need experienced staff with a proven track record for delivering strategic business value.  Most organizations struggle to modernize traditional solutions while incorporating cloud standards whether as private or public utilities.  Our approach has been to recognize and adapt to these various environment with hybrid solutions that deliver the quantifiable business value.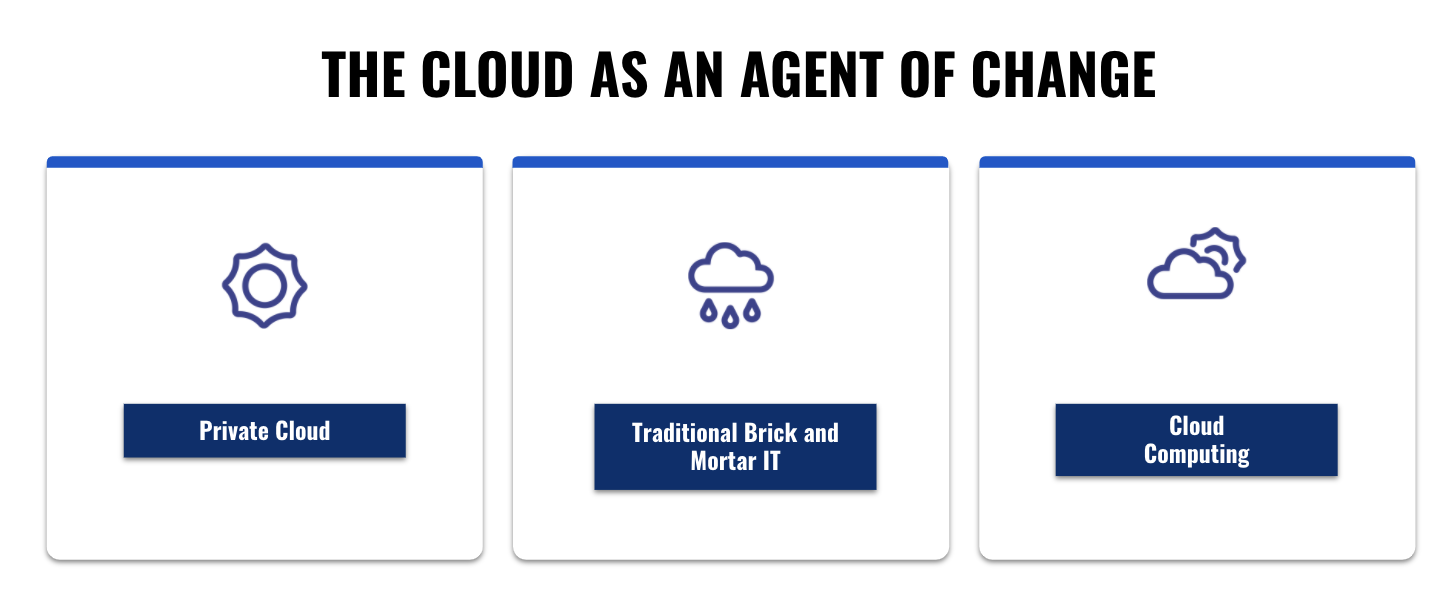 Our goal when providing IT solutions is to promote integration, user acceptance, efficiency, and compliance among users. We study the organization's dynamics and combine pragmatic, standards-based technical solutions in providing services such as:
The Prospective Group's (TPG) current planning efforts are aiding DOS in addressing government-wide mandates pertaining to application integrations and new technologies. TPG provides ongoing support to the Center for Analytics, Cloud Smart, Open Government, and Green Initiatives.
TPG teams have extensive experience with the global network environment. We focus on our client's global IT needs, encompassing the full software development lifecycle (SDLC). Recently, we provided expert assistance to the State Department on the rollout of the Enterprise Converged Platform (ECP). It aims to converge networks, systems, and storage components for US missions around the world.
Program and Project Management
We believe quality people are key to transformational business value. The success of modern project and portfolio management should focus on the intersection of three fundamental pillars: empowered people, lean processes, and modernized technology. Team TPG understands that new technology systems represent innovations for your organization that must be diffused smoothly throughout your organization to achieve program and project success.  Our approach makes use of the best of traditional and agile project management life cycles to adapt a hybrid solution that conforms to the technical, cultural, and social environments of your enterprise.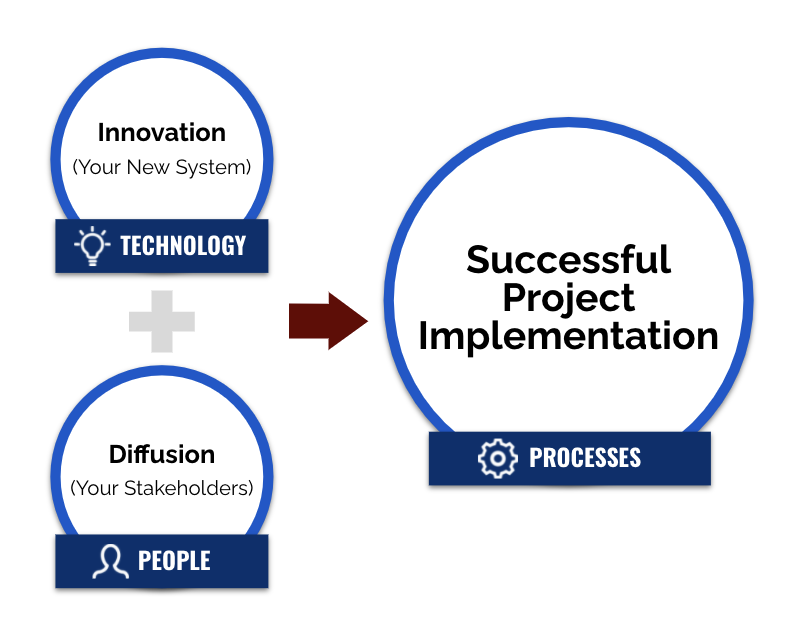 TPG has extensive program and project management experience, skills, and certifications. We are adept at dealing with large organizations with complex needs and constantly evolving customer bases and projects. You can count on us to provide support in the performance, cost, schedule, and scope of all assigned projects.
We manage projects based on key project management phases such as project initiation, planning, execution, control, and project closing. Our team follows the Project Management Institute's Project Management Book of Knowledge (PMI/PMBOK) and Capability Maturity Model Integration (CMMI) Service Level III standards.
We have successfully adapted project management services for Software Development Lifecycles (SDLCs) that range from the sequential Waterfall methodology to the Iterative Agile Methodology. Our program and project managers hold the Project Management Professional (PMP) certification.
U.S. Office of Personnel Management
The Prospective Group (TPG) is currently supporting the Defense Counterintelligence and Security Agency National Background Investigations Bureau (NBIB) in all aspects of budgeting and financial management for its $150M revolving information technology fund. We have also worked with the Office of Personnel Management (OPM) where we developed several successful procurements and more.
Business Intelligence and Strategic Enterprise Transformation
We believe data analytics is the engine for measuring business value and bringing about enterprise modernization. Many on our staff were career federal employees ultimately appointed by the President to lead Executive Branch planning and implementation activities. As one important link between the Executive Branch directives and the plans of the federal agencies our staff will use data science and analytics to guide strategic decisions, intelligent solutions, visionary innovation, and transformational business value. Our staff of experts can help plan organizational change, establish multi-year plans and budgets, and define intelligent processes that capture a robust picture of the transitional organizational performance required for federal management and reporting.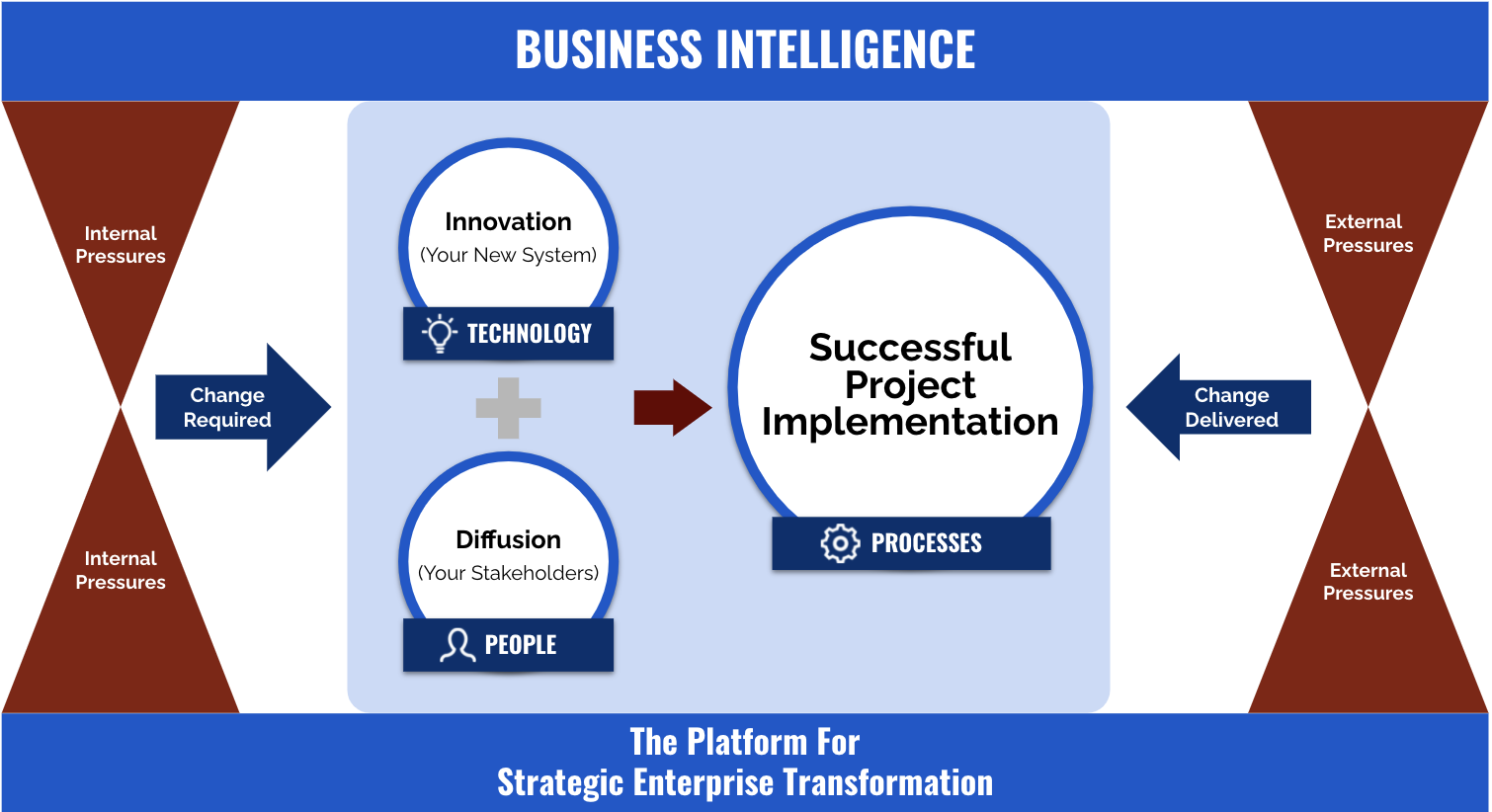 We work with our clients on organizational change management initiatives and business process improvement plans. We help them identify ways that new technologies can improve their workflow and enhance customer service while ensuring that users understand, accept, and utilize these technologies effectively and efficiently.
Our team works closely with clients and stakeholders to understand their environment, identify their needs, and create winning strategies. We collect requirements and connect developers and users to improve their technology.
TPG leverages its experience and certifications in Information Technology Infrastructure Library (ITIL) and IT Service Management (ITSM) to enhance the organizational performance of service desks, development groups, and operations and maintenance activities.
Consolidating Other's Opinion
We understand the challenges that come with change, which is why we try to mitigate them before they arise. To reduce misunderstandings and issues, we keep users informed and ask for their feedback. We use performance measurement metrics to assess the progress and success of our clients' projects.
Defense Counterintelligence and Security Agency
Currently, our team is working with the Defense Counterintelligence and Security Agency (DCSA) Resource Management Division to develop a mission and vision. Defense Counterintelligence and Security Agency (DCSA) Resource Management Division to develop a mission and vision.
Enterprise Security and Risk Analysis
We believe IT security will forge stable enterprise business value.  Is there any question that the current security posture of all organizations is characterized by instability?  If the walls of the city are crumbling, the barbarians will enter and loot.  Today the loot is not just information but extends into all of the systems that make for a modern society.  We must find our stability across the broader spectrum or our organizations.  This requires a fundamental look at the risks that we face.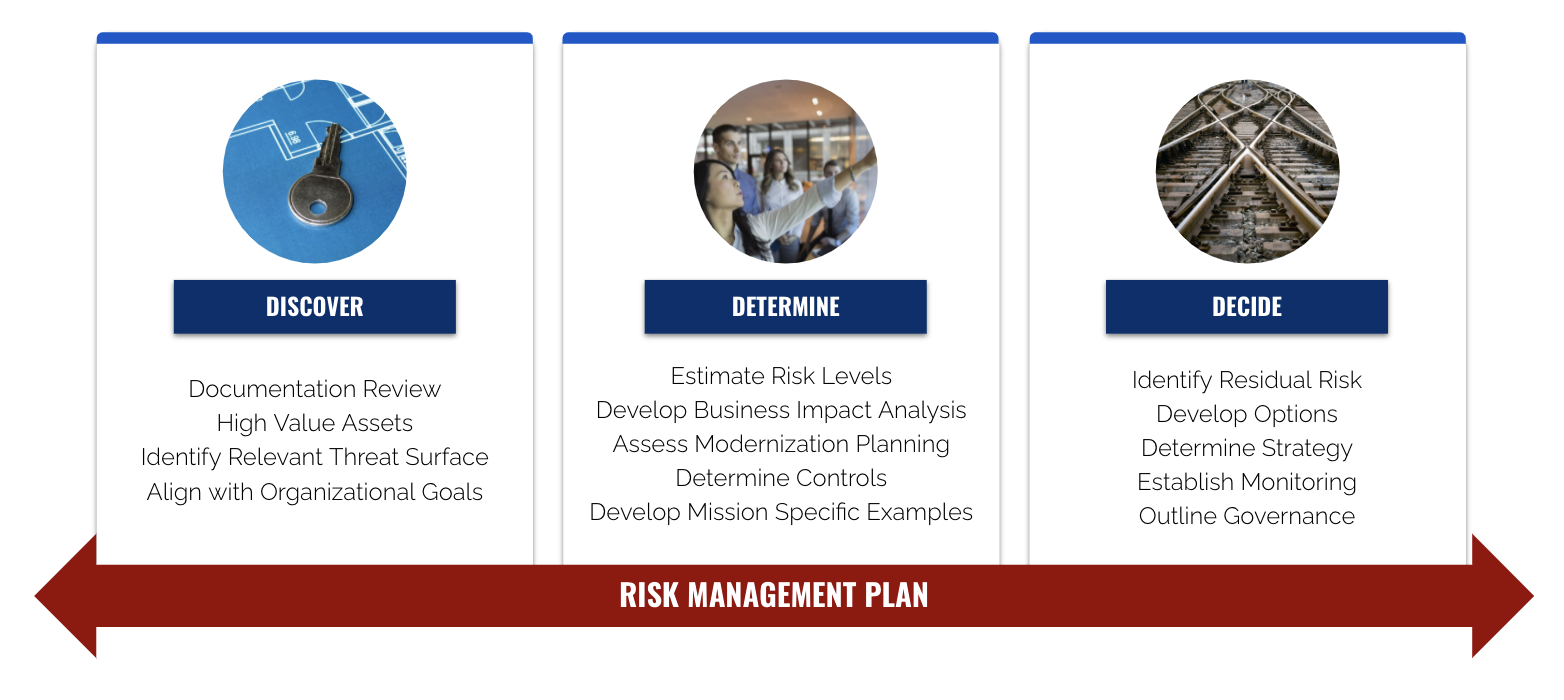 Risk considers the likelihood and impact adversarial or non-adversarial cyber events have on the mission of an organization. To determine the seriousness of a risk for an organization we follow bring a unique customized approach based upon NIST risk assessment standards.   We look at system vulnerabilities in aggregate while also considering the compounding effect of multiple vulnerabilities across business functions. Our risk assessment team examines various cyber threats and evaluates the capabilities of threat actors to exploit the aggregated vulnerabilities in enterprise systems to identify adverse impact(s) for the mission areas.
We follow a well tested and measured three step approach to risk assessment: discover, determine, and decide.
Contact us today, and let's discuss your organization's projects. We'd love to work on it with you!